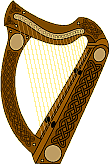 The Pride of Erin is a non-profit organization dedicated to the promotion of Irish Culture, specializing in teaching and demonstrating céili (Irish Folk) dancing. We are one of the oldest Irish dance organizations in San Diego.
Come join us for our Wednesday night céili in Balboa Park or contact us about having an Irish dance performance at your special event.
The Pride of Erin will be performing at the San Diego County Fair on Wednesday, June 7, 2017 at 6 p.m. on the Albertsons Funville Stage. Spend a day at the fair and end your day with some beautiful Irish music and dance.